A mobile LED display is a flexibel way to use your LED display at companies or events. In theory, every LED display can also be made mobile by mounting on a trailer. There are different types of trailers available, including open trailers or trailers with a closed structure in which a fully shielded space for the LED display and a separate control room are provided.
---
Advantages
Trailer is movable and therefore free of permit. Because of moveability the trailer can be used at different locations
Construction of various types of LED displays on trailer possible
Trailer with hydraulic lifting mast that can be rotated 360° and support legs for wind load
For protection of the mobile LED display, built-in GPS tracking system is optionable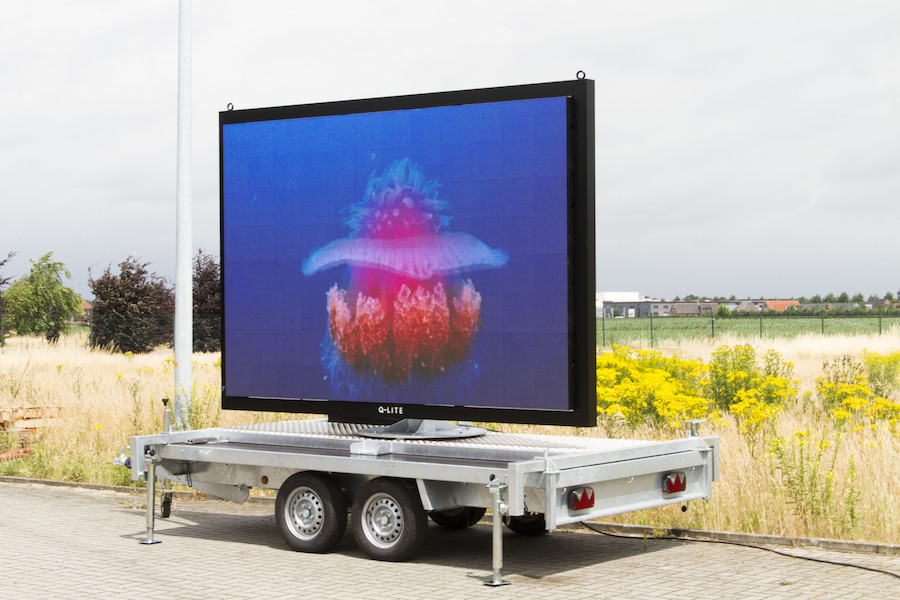 Perfectly readable from every angle, under all weather conditions
Can be used for advertising or 'live TV' such als sports games
Dimmer: automatic brightness control based on ambient light and content
European product in accordance with CE-, EMC- and VLAREM
Communicate with the LED display on different locations or events
A mobile Q-lite LED display is a possible solution if you want to communicate with a LED display at various locations (multiple establishments, events). Due to the construction on a trailer the LED displays are multifunctional deployable. They can be used as advertising display or "outdoor TV" to display your sponsors or sports games.
---
What can we do for you?
Good advice and a custom made solution for your specific wishes
Complete offer for LED display, trailer, control and security possible
Visit our Visual Experience Center to take a look at your display of choice
Expertise and explanation of permit requirement
Q-lite employees can provide installation and software training
Free helpdesk for all your questions about your display and software
---
Some references
Visit our Visual Experience Center
Our visual experience center offers you the unique possibility to compare the differences in pitch, resolution and appearance of LED displays. One visit tells you more than a 1000 words. Interested? Please enter your name and contact details in the form below and we will contact you to arrange an appointment.