Durability
The modular design facilitates maintenance and upgrades to our displays, prolonging the effective, functional and optical durability of our products. This grants the possibility to add additional sensors and finer LED prints after a period of 7/8 years. The full colour displays have a durability of over 10 years, and could be increased to 15 years via the circular DaaS (Display as a Service) model.
Q-Cloud
Our displays are monitored via our own cloud, allowing us to identify defects from our offices. These defects can often be resolved immediately. In case intervention is required, we can specifically target the problem as most of the times the cloud indicates the parts in which the problem has occured. This resulted in a decrease of 35% of interventions per 1000 displays.
Energy efficiency
When determining prices for the displays, it is important to examine the energy consumption in proportion to the light intensity. The electricity bill is a major cost to consider when purchasing an LED display. After a certain period of time, customers learn that their displays consume more electricity than initially indicated. Q-lite guarantees their customers LED displays that consume less energy than indicated on the quotation. We offer the possibility to install an electricity meter in our LED displays in order to measure the electricity consumption. In case the LED display consumes more energy than initially indicated, Q-lite is liable to refund the difference in additional electricity costs to the customer.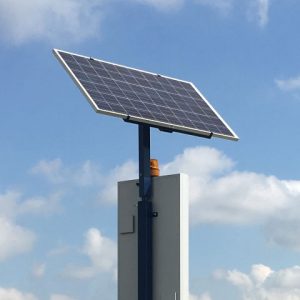 The content dimming technology allows displays to automatically adapt to the weather conditions and content. This technology ensures that the light of the LED display is not too intense for people and nature, and at the same time reduces the energy consumption.
Not only are the displays energy-efficient, they are also produced in a manufacturing plant running on 100% green energy.
Q-lite gives customers the opportunity to take a course regarding the operation of the LED displays. The following can be obtained from these courses:
Controlling displays
Optimal settings to attract attention
Energy efficient usage of colour palettes
Smart applications
Q-lite is experienced in the installation of sensors and the linkage of these sensors to their own software tools or other public and private software systems. The inside of the displays provide adequate space to install various sensors and camera´s even after installation at the customer, enabling the displays to meet future needs.

Light sensor*

Rec camera

Traffic counter

Speed meter

CO₂ meter

Dust meter

Temperature sensor (in/outside)

Consumption meter

Wifi

AED

E-charging docks for cars and bikes
* standard application to determine the required light intensity