Optimal visability
Thousands of drivers travel daily on the E17 between Kortrijk and Ghent. Therefore it's not that suprising that the transparante LED display with a pixelpitch of 10 mm is on the north-western side of the Snowball building. The display is located on the third floor, where Q-lite rents his offices. Every passerby on the E17 highway, can perfectly see the 27m² display . A smart location combined with a smart LED solution guarantees impactful communication.
Innovation is key
Snowball is an innovation hub where companies with a heart for sustainable business can rent office spaces. Q-lite also has been located there since 2021 with a Sales and Service department.. This new location can be found in the Evolis business park, right along the E17 highway, on the border of Kortrijk, with Harelbeke and Zwevegem. In agreement with the property owner, the remarkable Q-lite display can be used as a dynamic advertising- and informationdisplay. An innovative LED solution for THE innovation hub of Kortrijk.
Full colour content of Snowball alternates with the logos of the various tenants, Q-lite included, creating a higher visability for this brand new state of the art building AND the residing innovation companies. Win-win!
Respect for architecture
We installed the transparant LED display with an eye for the existing lines and transparency of the building, in sync with the beautifull glass architecture of the office complex. The display is purposely hung at a personnel passage so focus on the adjacent glass offices and meeting rooms is maintained.
Come see for yourself
Curious about a transparant LED solution that highlights your message?
Visit our Visual Experience Center in Baarle, make an appointment with one of our advisors in Kortrijk or drive past Snowball on the E17, nearby Kortrijk-East, and just look out the window.
The brand new transparant LED display at the Snowball building gives our French and East- and West Flemisch custumors the opportunity to experience this innovative product in real life.
We welcome you in Kortrijk!
A standard indoor LED display behind glass takes away a lot of incoming daylight. Want to avoid that?
With a transparant LED display, your windows can tell your story without the loss of light incidence. Thanks to the unique and innovative technology, the display allows light incidence and visability from inside to the outside, while a perfectly legible full color image appears outdoors.
Our transparent displays are completely 'on trend'. We, at Q-lite also choose to use the transparant LED solution with a 70% transparancy to put our new location in Kortrijk on the map! Are you driving along the E17 highway near Kortrijk-East? Then it's hard to miss!
Meer info about this project?
Contact our advisor:
---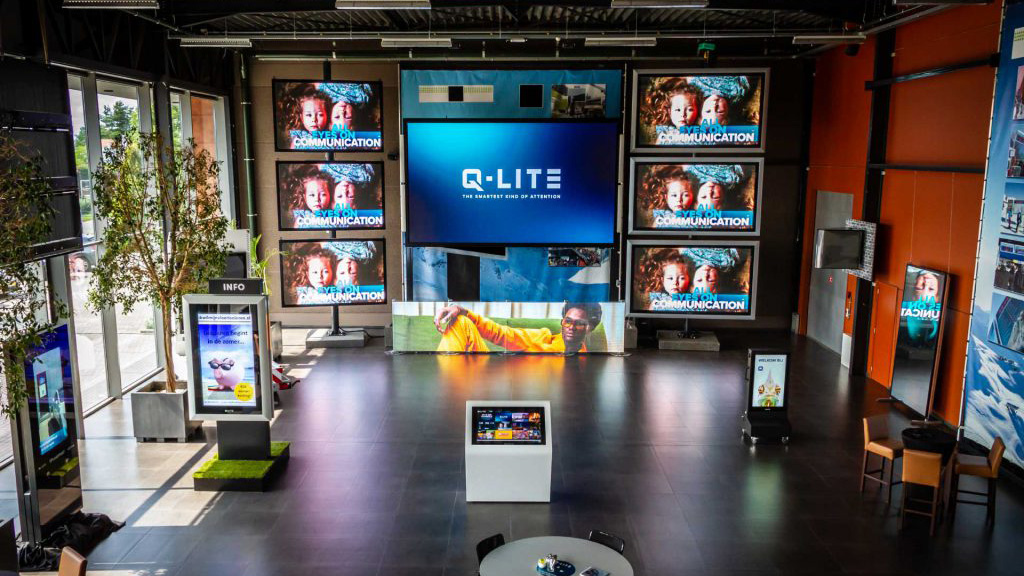 Visit our Visual Experience Center
Curious? Plan your visit to our unique Experience Center and local factory in Baarle quickly or get inspired live, or be inspired live by our transparent LED solution at our location in Kortrijk.
Our advisors are waiting for you!