Multifunctional scoring and narrowcasting system
Ultimate experience
The ultimate experience for athlete and visitor starts at the front door. From the moment you enter the ultra-modern sports complex you are taken into the digital world of Amerena. In this way, routes, dressing room layouts and events are neatly attuned to the visitors of that moment. No more wandering around looking for the one locker room that is still free or as a visitor along all the halls and baths looking for the right match.
Large LED-screen
Once you arrive at the Olympic competition pool, the tower pool or the sports hall, the next phase of the modern sports experience begins. All performances are directly displayed on the large LED screen, visible to visitors and athletes. From current intervals to end times and from live image to repetition. The entire sports event is supported by full color images.
At the end of the competition, the winner will be extensively visualized and organization and sponsors will be put in the spotlight. Of course, the opportunity will be taken to inform visitors and athletes about the upcoming competitions.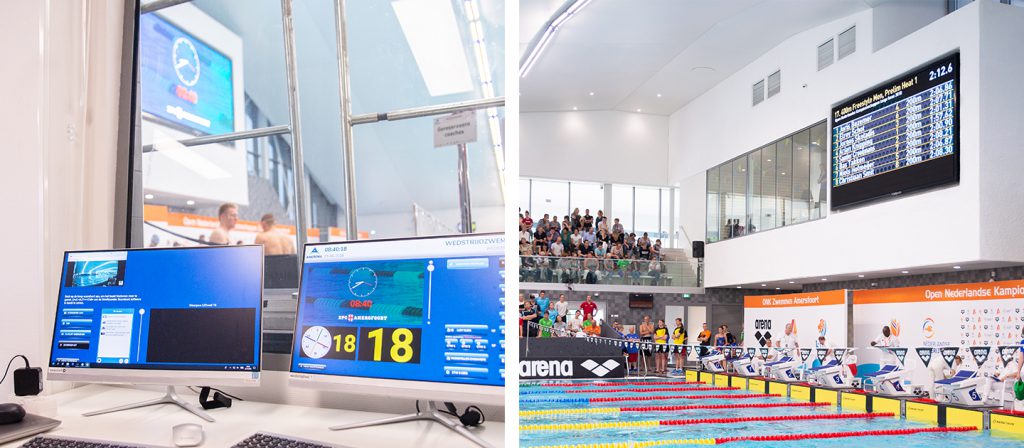 After the competion
When athletes and visitors meet each other after the match in the modern wooden club canteen of swimming club ZPC Amersfoort and the volleyball clubs AVV Keistad / Wilhelmina, the first images have already been edited and the highlights of the match can be seen on the many screens in the building..
When leaving the building, the athlete, tired but satisfied, looks back one more time: it really is there! He has won. In the coming week, his name will appear on no. 1 on all the screens in the building..
Realization Amerena
The ultimate sports experience as realized in Amerena is the result of collaborations between a large number of contractors and suppliers. A large project with new challenges on a daily basis. Thanks to the thorough project approach and experienced project managers, Q-lite has managed the process perfectly and realized a fantastic end product.
Q-lite's years of experience in scoreboard technology, the will to innovate with the builder and the top sportsmanship of the associations involved turned out to be a golden combination! Together we worked on a great achievement.
Requirements
A top sports location must meet top sports requirements. For example, all systems are approved and suitable for use during official competitions according to the requirements of NOC*NSF, FINA and KNZB.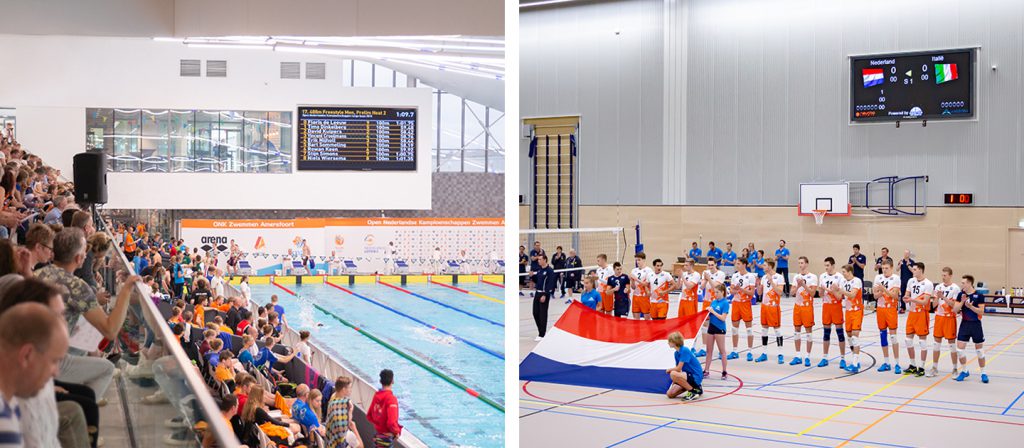 Technique and (top) sport come together in the brand new Amerena sports complex. Athletes can train and play matches under the best conditions. During these trainings and matches the athletes are supported by the latest techniques in the field of camera analysis and match registration. All this can also be followed by the public on one of the many LED screens in the sports complex.
More information about this project