ViewAll: scoreboard software
Control all your scoreboards, shot clocks and narrowcasting screens from just one system.
Thanks to our ViewAll scoreboard software, you can display scores, videos and images, as well as logos, match layouts, timekeeping and live camera images from a single device. Moreover, the scoreboard system also allows you to easily control external devices, such as jury tablets.
The software is suitable for all common sports and, in addition, all scoreboard configurations are automatically integrated. In addition, the ViewAll system's user-friendly software ensures easy operation.
Soccer
indoor soccer
Tennis
Basketball
Volleyball
Hockey
Korfball
Water polo
competitive swimming
Synchronised swimming
Springboard diving
Ice hockey
competitive skating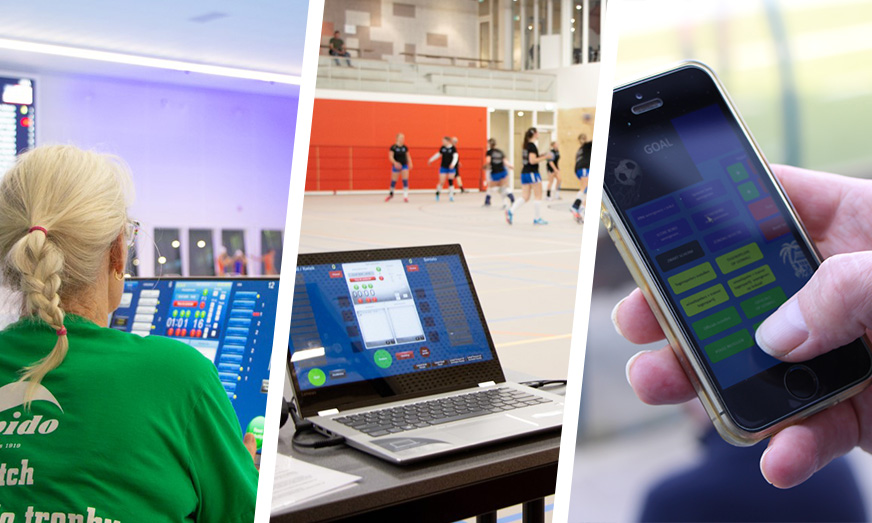 Easy to operate by young and old alike
Our ViewAll system features a touchscreen with a very user-friendly look-and-feel. The large buttons and intuitive controls ensure that both young and old can quickly work with it. Moreover, it is possible to configure the software per user as required.
When purchasing our ViewAll system, we look at a solution customized to your accommodation. Moreover, we provide flawless installation, followed by custom-made training.
With some regularity, we organise training events. These take place at one of our offices or at a client's premises. The training is designed for people who have been working with our software for some time. During this instructive and interesting evening, you will learn the intricacies and different features of the software.
Sign up here if you want to be there next time too!