LED screens are increasingly seen in boardrooms and meeting rooms. And that makes sense because it is the ideal solution for video conferencing and presentations. An LED screen is seamless and offers high brightness, good contrast ratio and a colorful image.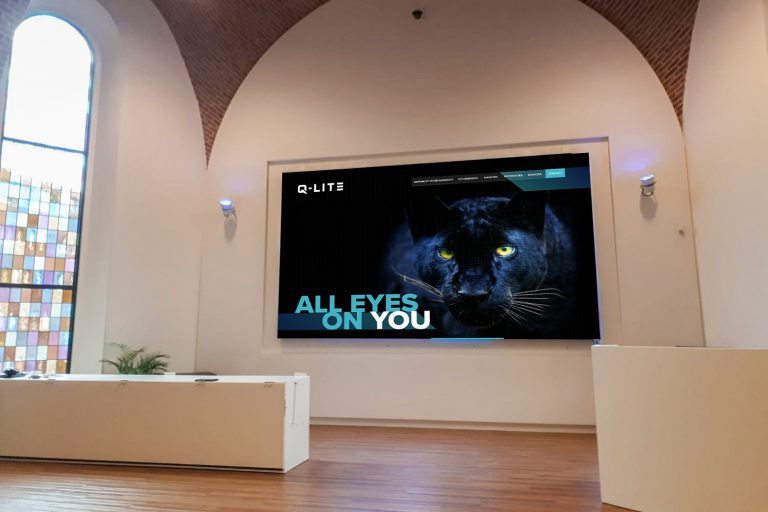 High brightness, good contrast ratio and colorful image
For example, you can opt for a Full HD indoor LED screen of 285 cm wide with a very fine pixel pitch (distance between the image pixels) of 1.5 mm. Of course, these are just technical data. The perception of large format projection is completely different. With an LED screen you create a strong visual impact with high brightness, good contrast ratio and colorful image, bringing the content on the screen to life. The result: optimal viewing pleasure without being bothered by seams (with an LCD screen) or ambient light (with a beamer).
LED screens do not have annoying seams running across the screen as with an LCD video wall, but only an edge on the outside. A wide horizontal and vertical viewing angle ensures that the view is optimal from all positions. LED screens are available in different pixel pitches and can be custom made with a beautiful design finish all around.
Simple and intuitive software
Intuitive software, with which everyone in the meeting room can easily wirelessly take over the screen is important. The screen can also be divided into areas, so that you can clearly display different things next to each other.
Slim panels and razor-sharp image
Indoor LED screens consist of slim LED panels with a fine pixel pitch. That small pixel pitch, for example 1.5mm (or even smaller if desired), results in a razor-sharp image. Ideal for indoors where the viewing distance is often short.

An LED screen has a longer lifespan than an LCD screen. In addition, an LED screen is easier to maintain and repair. When 1 of the LCD screens in an LCD wall is defective, it is almost impossible to replace it with the same type after 3 years. A new LCD screen will also be brighter in color, making the older LCD screens suddenly appear duller.
The automatic light control on an LED screen ensures that the light intensity is automatically adjusted to the amount of ambient light. The content on the screen is therefore easy to read in all lighting conditions.
It is important to choose a total solution in which image, control and sound are well coordinated. In addition to digitizing your meeting room, this is also possible for your room reservation and referral system. And all this in 1 system.
Would you like to know more about the possibilities of indoor LED and presenting with impact? Contact our market experts or visit our unique experience center.