S.V. Kampong scores with full color scoreboard
S.V. Kampong is one of the oldest and largest football club in the Netherlands. The Utrecht amateur football club has about two thousand members. The spacious and modern sports park in the middle of the Netherlands attracts about 7000 visitors every weekend.
More than just a scoreboard
Such a sports park and large football club also needs a new scoreboard. S.V. Kampong was looking for something more than just a board to show the scores on. hat's why a beautiful new full colour LED screen with integrated scoreboard function has recently been installed along the main pitch. The screen has a nice size of 3 x 2 meters and is clearly readable along the entire field.
The screen is versatile and very frequently used. During the matches, in addition to keeping track of the scores, the time and temperature are also shown and the AD news feed can be read. In this way it becomes more of an information board. In addition, they also show the sponsors so that the screen really becomes an eye-catcher.
Before the match the players of their own team will be shown. At the moment of scoring you will see a picture with goal on the screen and the picture of the person who is scored.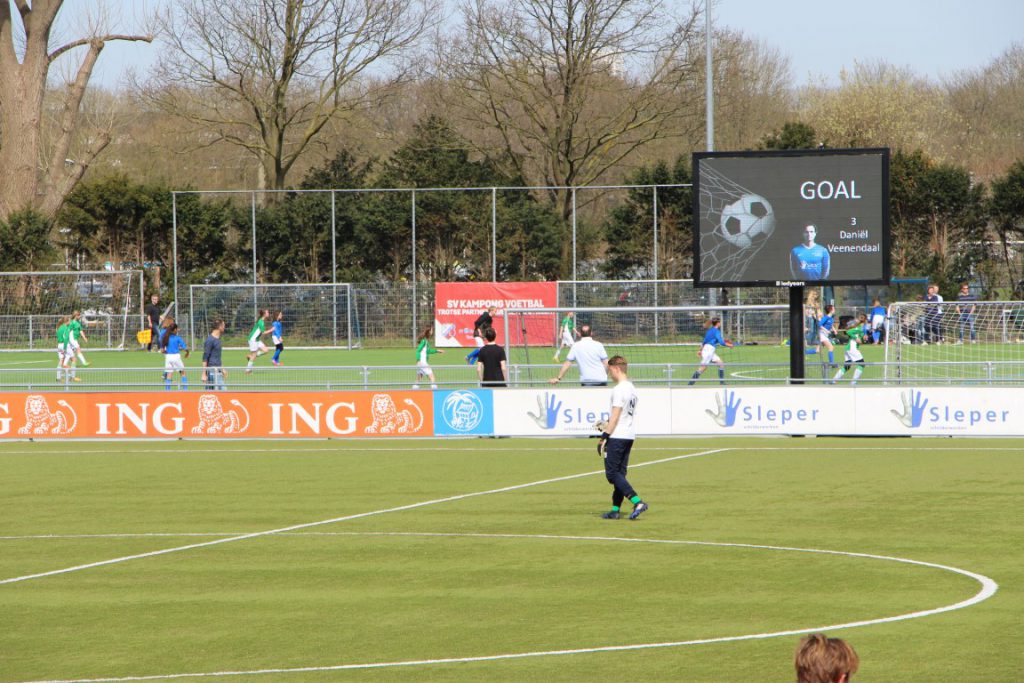 he future plans of the club with the LED screen? Also show the players of the host team and the referees before the start of the match. Let the game begin!
The user-friendly software has been adapted to the club's own wishes. For example, its own menu structure has been created and the club colours have been applied. The screen is easy to operate, which is useful when there are 30 users. S.V. Kampong can control the screen via the laptop in the competition room and via an app on the mobile phone.