At Q-lite, we have the objective to reduce our CO₂ emissions as much as possible, and certainly with a view to net-zero by 2050! We currently compensate the CO₂ that we cannot reduce in scope 1 and scope 2 via WeForest, which allowed us to receive the CO₂ neutral certificate. Going forward, we will try to reduce all our CO₂ emissions. That is why we are already taking our first steps to offer the next generations and our own company a bright future.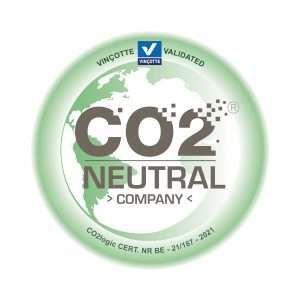 We have just joined the Science Based Targets initiative, connecting to reduce our scope 1 & scope 2 emissions by 38%. A large part of these emissions in our business operations are due to our service vans that are always at your service! In the long term, we will of course provide it fully electrically, but the technical aspects in terms of range and weight are currently not of interest to us. That is why we are making the conscious choice to use HVO fuel as an interim solution from now on. For example, we can now reduce all our scope 1 emissions by up to 65%.
Well, HVO, Hydrotreated Vegetable Oil, is a biofuel with a composition similar to that of conventional diesel. The only difference is that it is made on the basis of vegetable materials such as palm oil and residual products, and can therefore reduce our emissions by up to 90%! Depending on the range, we will therefore always opt for HVO100, which consists entirely of biodiesel. But if this is not possible, there are alternatives such as HVO20, where 20% consists of HVO and 80% of conventional diesel. This could also reduce our emissions by about 18%. In addition, HVO can always be refueled in combination with regular diesel, so no adjustments to our vehicles are required.
There is a real debate about the use of biodiesel because it often contains palm oil. A lot of forest has to make way for the construction of palm oil plantations, which means an increase in scope 3 emissions. We are fully aware of this and therefore opt for Neste MY Renewable Diesel, which is certified palm oil free!
Would you like to know more about our measures to reduce CO₂?