Climate change and global warming are often recurring topics, including in the business world. More and more companies are taking actions to reduce their carbon footprint and do their bit for a more liveable world. One of the newest ways as an organisation to take actions against rapid global warming is by folowing the Science Based Targets Initiative.
Together with a global group of leading companies, with our participation we consciously choose ambitious climate actions to significantly reduce CO₂ emissions.
Science Based Targets initiative
Or simply, SBTi. What exactly is it?
Well, the green initiative emerged in 2015 with the purpose of helping companies reduce their carbon emissions in line with current climate science and the commitments made in the Paris climate agreement. It is a collaboration between CDP and WWF, among others, which has already been joined by more than 3000 companies!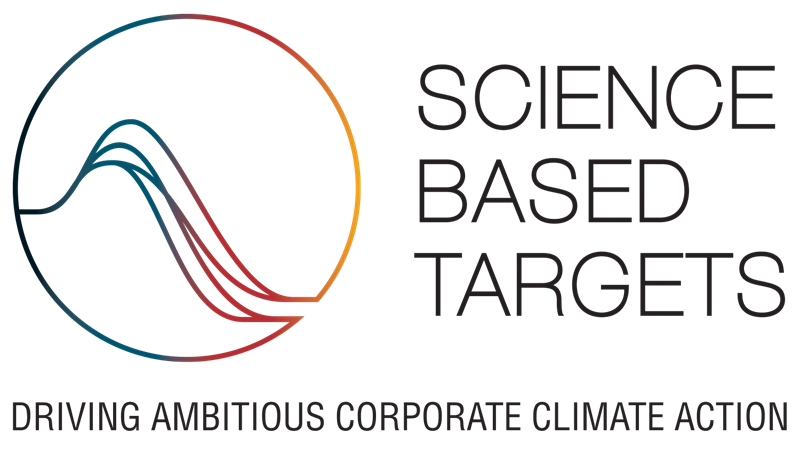 How are we going about it?
For our application to SBTi, we set clear reduction targets.
By 2030, Q-lite will reduce direct and indirect emissions from its own business processes by 38% compared to the 2021 base year. Furthermore, we are pursuing our own scope 3 target. Here, we aim to achieve a 25% reduction by 2026.
By 2050, our ambition is to reduce emissions from all our direct and indirect emissions by as much as 90% compared to the 2021 base year. Did you know that we also take into account emissions from business processes of our stakeholders, i.e. suppliers and customers?
The very first step, of course, is to map our own emissions. Scope 1 emissions, or our direct emissions from the production process, and scope 2 emissions, our indirect emissions from purchased energy, have been very clearly on our radar for several years.
Now we also need to take stock of scope 3 emissions. This is the set of emissions that are upstream or downstream in the value chain and therefore more difficult to determine. In short, for the year 2022, we aim to have a complete picture of emissions linked to the full life cycle of our products and the energy flows associated with them. Quite a challenge!
For scope 1 and scope 2 emissions, we already developed a comprehensive roadmap.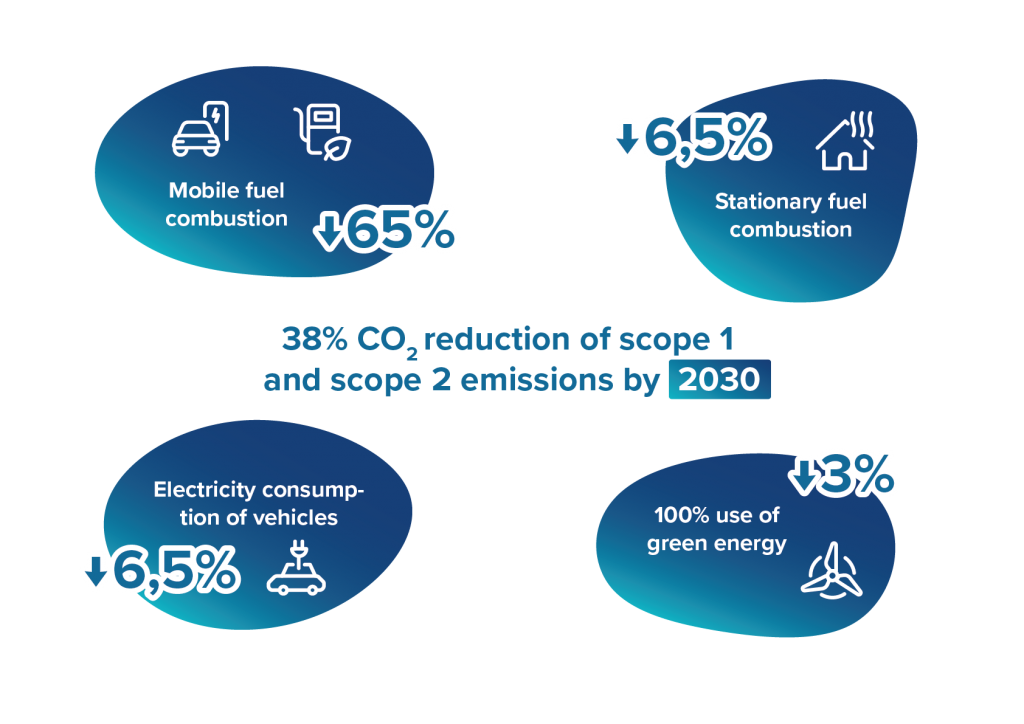 For scope 1 emissions, we take the following measures:
By 2030, we want to move towards an all-electric fleet of company vehicles. At the moment, it is not technically interesting yet because of the small driving range.
Therefore, as a compromise solution, we will choose HVO fuel from now on. This organic fuel based on vegetable oils, waste, residual oils and fats will reduce our carbon emissions by up to 90%.
We will also significantly reduce our gas consumption by replacing one of our central heating boilers with a sustainable heat pump to efficiently heat our largest site in Baarle-Hertog. This will reduce the gas consumption used for heating in the building by up to 60%!
For scope 2 emissions, we take the following measures:
In our fleet, we already have some electric cars and while an electric car is the way to avoid emissions while driving, we have to make sure that we always charge these cars with green electricity. The generation of grey power does still release some greenhouse gases. We therefore want to ensure that we definitely avoid these in order to achieve a decrease in our scope 1 and scope 2 emissions of around 3%. For this, we are going to give our employees a list of all-green electricity providers and let them charge with green electricity.
Our solar panel system generates up to three times our own power, but unfortunately there are times when the sun fails us. We have been purchasing 100% green electricity for all corporate sites since 2022.
So what about scope 3 emissions?
Since 2020, we have been working hard to clearly map our scope 3 emissions. Our initial findings after thorough research indicate that energy consumption during the lifetime of our displays, procurement of materials and transportation are the biggest factors in our scope 3 emissions. Besides our science-based target of 90% reduction in our total emissions by 2050, we also have our own short-term target to reduce our scope 3 emissions by 25% by 2026.
We therefore asked suppliers, on the one hand, about their approach to reducing CO₂, and whether they could possibly already provide their proof of CO₂-neutral operations. By getting the right information from our partners, we can fill in the parameters in the value chain more correctly, giving us a better view of the actual emissions from the value chain. In aluminium production, for example, data on the percentage of recycled material and the use of green or grey electricity in the production process are essential to calculate emissions.
From then on, it is a matter of making the right choices in terms of materials, suppliers and transporters and engaging with our A-suppliers to involve everyone in our sustainability story.
Our customers will also play a very important role in minimising our overall emissions. To curb energy consumption emissions over the lifetime of our LED and LCD products, we are taking three concrete actions:
The development of more energy-efficient displays;
Webinars for clients on impactful and low-energy content formatting;
Raise customer awareness about connecting their display to green rather than grey electricity.
So we have quite a bit of action and conversation ahead of us. Still, we have a good eye on being able to engage all key parties to achieve our science-based targets together. In this way, we are jointly striving for a sustainable future, thereby achieving our short- and long-term SBTi target of 38% reduction in scope 1 and scope 2 emissions (2030) and 90% reduction in our total emissions (2050), respectively.