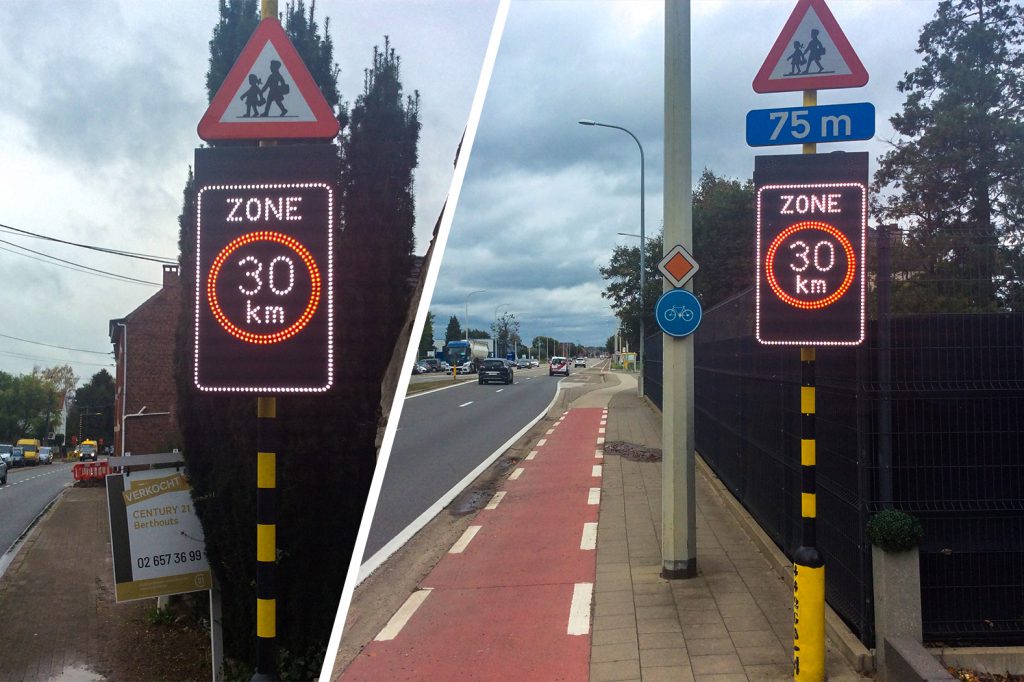 Temporary speed limit of 30 km/h
This display is mostly a solution at schools where the standard speed limit is higher than 30km/h. By using this display, you have the possibility to insert a temporary 30km/h speed limit. This way, the safety of students gets elevated. When the LEDs on the display are not on, the normal speed limit will be of use. There is also the possibility to combinate a 30, 50, or 70 km/h into one sign!
NEN-EN12966 certified
The dynamic zone-30 traffic-displays are NEN-EN12966 certified and are made by the standard cutlery of the Flemish Government. Thanks to the sharp resolution and good readability, the dynamic displays are also perfectly visible during adverse weather conditions.
Guidance Q-Cloud/RAAAK
The displays that we made for Antwerp and Geel are under guidance of our RAAAK platform. Via this web portal the owner of the school environment can control the working time. Because of the scenario function, the owner can preprogram the system on abnormal moments. In addition, the RAAAK platform serves as a tool for the functioning of the installation, so that a good functioning is guaranteed.
All eyes on safety
In conclusion, a dynamic zone-30 traffic-display is the ideal solution for a safe school environment.
Did you know…
That our dynamic traffic-displays belong under the subsidy safe school environment. You get 50% subsidy in Flanders. (look on the website; ask for advice).
To insure the safety of the school environment, "Agentschap Wegen en Verkeer (AWV)" has +- 1100 dynamic F4a/b digital displays along the Flemish regional roads.
In addition, there are also cities that invest in these digital displays to place in school environments, like Geel and Antwerp.
We currently have an order for ± 235 displays for AWV, of which 72 displays for the city of Antwerp and 8 displays for the city of Geel.
More info about this project?
Contact our advisor: